Warming Solution Set 205 has the following benefits:
By adding the right quantity of HPC, the solution's viscosity is increased while the osmotic shock is decreased. Moreover, by regulating the rate of hydration and dehydration, damage from hyperhydration is avoided, enabling a safe recovery.
Specifications
1.8ml Diluent Solution (DS) x1
1.8ml Washing Solution (WS) x2
1.8ml Thawing Solution (TS) x5
The shelf life for this product is 1 year if stored at a  temperature level between 2 Degrees Celsius and 8 Degrees Celsius.
Protocol
During the defrosting process, abrupt osmotic shock changes come as a big problem. Besides, It may cause the Oocytes and embryos to overexpand or become hyperhydrated, which could harm the cells' cytoskeletons. On the other hand, a technique to reduce osmotic shock in the various solutions when adding HPC is called cryotec preservation. This method allows for extremely slow and secure dilution while increasing viscosity.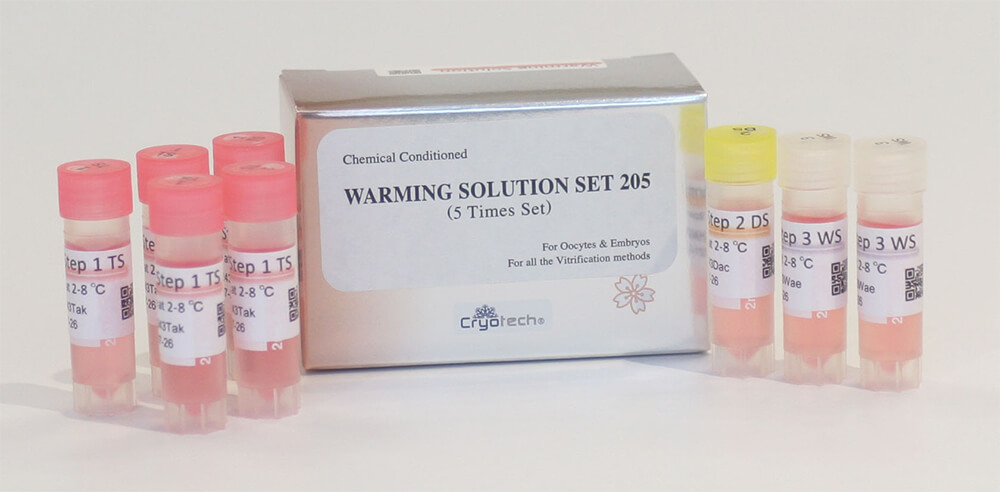 Preparation Instruction
The entire procedure must be completed at room temperature.
Use a Pasteur pipet with the appropriate diameter for the oocyte, embryo, and blastocyst
Prior to use, place the warm plate and the TS vial in the incubator at a specific temperature for two to three hours. It is best to store items overnight.
DS and WS vials must be exposed to room-temperature air for at least an hour before use.
Expel the TS vial from a warm plate and place it in the first square well on the plate.
Get familiar with the Dilution of CPAs
You must quickly insert the cryotec with TS into the 1 square well, then wait for 1 minute.
While we wait, the procedure continues to add 300 l of DS to the second well.
To drive the oocyte or embryo and 3 mm of TS slowly to the bottom of the second well (DS), aspirate them into the pipette. A timing of three minutes might be necessary.
Each WS1 and WS2 should contain 300 l of WS.
Oocyte or embryo and 3 mm of DS should be aspirated into the pipette, then they should be slowly ejected to the bottom of the third well (WS1) while you wait for five minutes.
At the conclusion of this step, decide whether or not the shrunk oocyte or embryo should be recovered.
Place the oocyte or embryo on the surface of the fourth well or WS2, then place it there again to complete a two-wash cycle.
Place the oocyte or embryo in the culture media drop for ICSI and ET recovery.
Expert supervision and guidance are recommended during the entire procedure!