The Cryotec Warming Kit 102 comes as the ideal product for those searching for the best warming solution for oocytes or embryos. Besides, the TS well's propensity to prevent bubble formation in order to ensure the quickest warming is just one of the many exceptional features that make it the ideal choice for both applications.
On the other hand, the well won't cast any shadow when observed under a microscope while further keeping oocytes and embryos under its focus given to its hemispherical shape.
Product Specifications
1 Warm Plate
8ml Thawing Solution (TS) x1
5ml Diluent Solution (DS) x1
5ml Washing Solution (WS) x2
Shelf-life of 1 year at 2℃~8℃
Protocol
Keep the following pointers in mind while bringing the Cryotech Warning Kit 102 in use
A serious issue with the defrosting process can lead to abrupt osmotic shock changes that could lead to over-expansion or hyper-hydration in the oocytes and embryos.
The cytoskeletons and cells may witness some damage
When introducing HPC to various solutions, osmotic shock is minimized using a preservation method known as cryotech.
This increases viscosity while producing a very slow, secure dilution.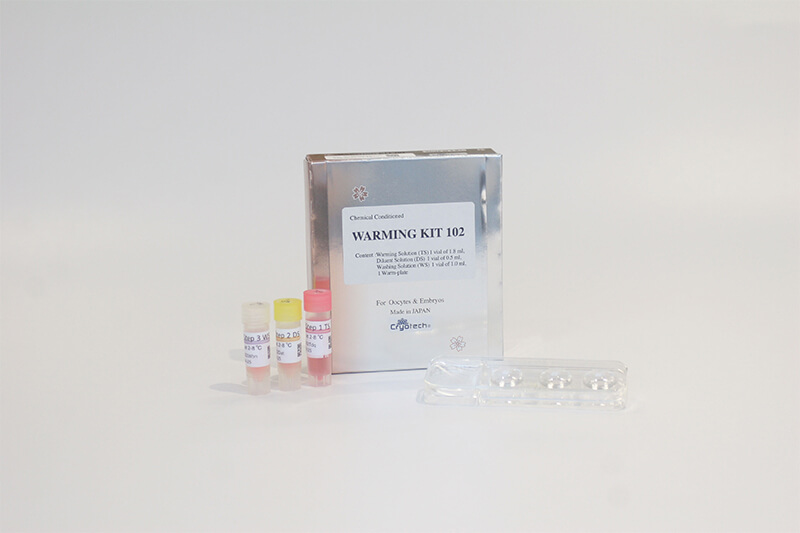 Preparation
For the procedure to be completed at room temperature, between 25 and 27 °C, a Pasteur pipet with the appropriate diameter for an oocyte, embryo, or blastocyst is required.
Three hours before usage, a warm plate containing a TS vial must be placed in the incubator at a particular temperature.
Overnight storage is recommended for items.
At least an hour must pass before the DS and WS vials are used in air at room temperature.
For the last step of the procedure, the warm plate and TS vial must be taken out of the incubator, and the vial must be ejected into the first square well.