Looking for the best IVF clinics in Mumbai, where complete treatment and successful cycle for the IVF Mumbai are recommended and provided?
You have come to the right place for the successful procedure of IVF in Mumbai at a clinic that stands in the queue of the best IVF clinic in India. Goral Gandhi is an experienced consultant embryologist offering complete solutions with a higher success rate to make your dream come true to get the pleasure of parenthood.
Why Goral Gandhi as Consultant Embryologist at the Best IVF Clinic in Mumbai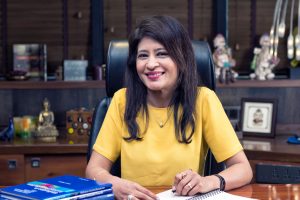 Goral Gandhi is a Clinical Embryologist with over 25 years of experience in the field of IVF and Assisted Reproductive Techniques. Being the founder & scientific director of Global Fertility Solution – One of the trusted and reputed IVF clinics in Mumbai, Goral Gandhi has been working IVF specialist and stands as one of the leading embryologists and IVF trainers in India. She, from the best IVF clinic in India, has been providing IVF Lite and wholesome surrogacy services in India along with the science of ART, and IVF.
She has been a much-admired clinical embryologist with expertise in ICSI, Surrogacy, Frozen Embryo Transfer, Egg Freezing, segmented IVF, and varied fertility treatments in Mumbai, India.
She has 25 plus years of rich experience in the field of IVF and ART
She has the distinction of setting up diverse IVF technologies – successful and has helped thousands of childless couples to get the pleasure of parenthood
We are the most awarded and the best IVF clinic in Mumbai offering a well-planned IVF treatment in India
Goral Gandhi as a consultant embryologist has been managing the best IVF clinic in Mumbai with a team of dedicated and experienced professionals
We have a world-class IVF lab and facility where international standards of quality are followed
We ensure 100% patient confidentiality and IVF success rate at the best per the international standards
24×7 Medical Care and Successful Conceiving at the Best IVF Clinic in Mumbai
We believe in a complete patient-centric approach and focus on ethical IVF practice. We are the trusted IVF clinic in Mumbai offering you 24*7 medical care. Our main motive is to provide you with the best experience through the care you need for the duration of treatment. Our staff will be online with you till you conceive successfully.
Goral Gandhi has become a reputed name for the design and establishment of many successful and best IVF clinics in Mumbai, different parts of India, and a successful one in Ghana. She has trained many embryologists and scientists to provide the best IVF in India and globally.
What Makes Goral Gandhi the Best Consultant Embryologist and Key for the Successful and Best IVF in India?
Know as the best fertility doctor in Mumbai, Goral Gandhi has founded and has set a new benchmark in the IVF and ART domain by Global Fertility Solutions.
It is a well-established name to provide training to a good number of aspirants in the field of ART. Global Fertility Solutions is the place that contributes to providing ART training to embryologists and helps train in to become the best doctor for IVF in Mumbai and India.
You can trust Goral Gandhi after knowing that she has conducted innumerable ART workshops like training in IUI, ICSI, Vitrification, Trouble Shooting, Laboratory Management, and live practice in IVF clinics in Mumbai along with UAE, and Jordon. After providing training to over 600 embryologists & clinicians from across the world, Goral Gandhi has co-edited an international textbook on Vitrification. In addition, she has also co-authored over 30 chapters in diverse medical textbooks with several publications in national and international journals.
Services You Will Get from the Best IVF Clinic in Mumbai
Infertility and IVF (Test Tube Baby) – at the best IVF clinic in Mumbai, infertility treatments are offered with IVF procedure to help in making pregnancy possible at the time of blending sperm and eggs in labs to develop an embryo. We monitor and stimulate the ovulation process.
ICSI – Intracytoplasmic Sperm injection or ICSI is a type of IVF – recommended to treat male factor infertility. This process involves a single sperm injected into a mature egg at IVF clinics in Mumbai with an eye of an expert around the process.
IUI – Intrauterine insemination is recommended for infertility treatment to place sperm directly into the uterus around the time of ovary releases one or more eggs to be fertilized.
Surrogacy – It is an arrangement supported by the legal agreements between intended parents and surrogates to carry a pregnancy on behalf of the parents.
Egg Donor– We have a database of healthy egg donors in Mumbai at our IVF clinic. Our egg donors are screened properly and all tests are done to ensure healthy eggs are used for the development of the embryo.
Egg Freezing – Oocyte Cryopreservation or egg freezing is the process of freezing eggs of a healthy woman and using later to get the process done at the best IVF clinic in Mumbai.
Surrogate Mother – We are the best IVF clinic in Mumbai for the arrangement of surrogates in a legal way.
PGD and PGS – Embryos are tested to ensure better quality by using pre-implantation Genetic Diagnosis (PGD), and Pre-Implantation Genetic Screening (PGS).
Feel free to contact us for IVF in Mumbai done successfully and in the observation and presence of embryologists and IVF specialists from a bespoke and the best IVF clinic in Mumbai.