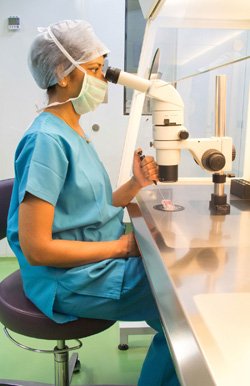 We offer quality IVF treatments at our center with a team of professional experts at our side as we aim to satisfy our patients and they are the only priority.
Fertility is a journey full of emotions, stress, financial and physical factors. You may encounter all of that in your journey of becoming parents. At Global Fertility Solution, we work along with you at every step of your process – from analyzing the problem to completely treating it – as smooth and comfortable as possible. Together we'll work on your issues and will choose an appropriate method to counter your infertility. Many fertility problems can easily be encountered with proper medication or surgical procedures. For couples facing challenges in having pregnancy, we are the best options and have proved it with our success rates.
We know when you visit our IVF centers in Mumbai you must be having a lot of questions in your mind about your results, procedure, and about your next steps in your fertility journey. Our Medical staff makes sure that you'll feel no trouble during the process and all the things go comfortable by your side. Our goal is to provide all our patients the advanced state of art medical care and an environment that make sure their success rate in their fertility treatment.
Goral Gandhi has developed this place for seeking help, support, and guidance towards the challenges of infertility. Hence, the advice given by your physician is as important as our support and guidelines towards your process, this isn't a substitute for that. We encourage you to know all the aspects of infertility and can make your own educated decisions that will bring you your dreams closure and provides our support to get through this difficult situation and frustrating time in your life. Let us know your problems and rest all upon us to make you reach your parenthood.